Lots to Learn Nature
Theatrical Release:
July 2, 2004
DVD Release:
July 2, 2004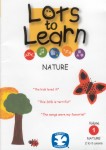 Synopsis
At Lots to Learn we know what it's like to raise kids…Lots of 'em. We also know how important it is to provide children with the best in high-quality educational tools. It's with these thoughts in mind that we've created a series of educational and entertaining videos for your pre-kindergarten kids. Each video in the series is designed for different age groups, from birth through 5 years, and has been completely tested for quality by our toughest critics: kids and families! The original music on compact disc accompanies the "Lots to Learn" DVD.
Dove Review
"Lots to Learn Nature" is a great compilation of dance-along and sing-along songs for kids. All of the songs have to do with nature and the world around us. From summertime and fish to sunsets and stretching like a tree, watching this DVD is a fun and exciting way to teach your kids about their environment.