The Grapes of Wrath
Theatrical Release:
September 30, 2004
DVD Release:
September 30, 2004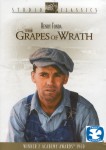 Synopsis
Following a prison term he served for manslaughter, Tom Joad returns to find his family homestead overwhelmed by weather and the greed of the banking industry. With little work potential on the horizon of the Oklahoma dust bowl, the entire family packs up and heads for the promised land – California. But the arduous trip and harsh living conditions they encounter offer little hope, and family unity proves as daunting a challenge as any other they face.
Dove Review
This movie had a really somber feel to it, but that is probably because it was set in the great depression and the dust bowls and it showed just how people were treated back in that day if they did not have money or power over anyone. Everyone in the family keeps getting more and more trouble and heartache thrown their way. The phrase "Grapes of Wrath" comes from the biblical book Revelation and it deals with judgment. I was so impressed with the way everyone stuck together and did everything they could for each other in spite of what was going on in their lives. I had never seen this movie before and it deserves to be called a classic.
Info
Company:
20th Century Fox Home Ent.