Bugtime Adventures: Against the Wall
Theatrical Release:
May 10, 2005
DVD Release:
September 27, 2005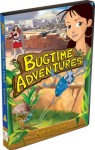 Synopsis
After wandering the desert for many years, the Hebrew people are eager to reach the Promised Land. However, the enemy city of Jericho stands in their way. Inside this walled fortress lives a woman named Rahab who wants to be free of this unjust city. Rahab helps the Hebrew spies, and in return, they promise to help her entire family escape the city. Everyone expects a major battle, but God has other plans for Joshua and his army.
Along for the journey, our bug friends also find themselves up against a wall. Roderick wants to give up right away, but Antoni and Megan know that if they stay on the right path, one way or the other, they'll make it through. They try over, under, around, and through the cracks in the wall but fail to get to the other side – that is, until Wally steps up.
These stories convey the importance of not giving up when on the right path
Dove Review
Each episode has two stories, one Bible story and the story surrounding the bugs. The story of Rahab in the city of Jericho and a story of a group of bugs on a trip to a new home. Rahab has a kind heart and wants to get her family out of Jericho. The group of bugs are looking for a new home and the walls of Jericho are an obstacle for them. The film is confusing with the two stories. Rahab helps two Hebrew men, who are spying on the army of Jericho, to get out of the city. Rahab and her family are rewarded for her help by being spared from the destruction of the wall.
The bugs keep trying different ways to get over the wall and learn that with patience and friendship, you can overcome anything.
Info
Company:
Lightning Bug Flix
Industry Rating:
Not Rated
Starring:
Narrated by Willie Aames