VRRROOOMMM 2: Dairy Farming for Kids
Theatrical Release:
November 17, 2004
DVD Release:
November 17, 2004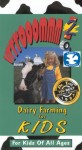 Synopsis
Farmer Bill takes you on a personal tour of a modern family farm. Join him as he explores what it is like to live and work on a 700-cow dairy farm. From cows mooing to tractors roaring, this entertaining and educational video has it all. Follow milk production from growing the herd's feed all the way to seeing cheese made. Adults and children alike will want to watch it over and over again.
Dove Review
This video was so interesting. Being a farm girl, it was great to see how technology and processes have changed since I was on the farm. It is full of information and if you have never been on a farm it will keep your interest. When it comes to the end, you will want to learn more details about some of the topics brought up about dairy farms. Watch this video and learn.