Alexander
Theatrical Release:
November 23, 2004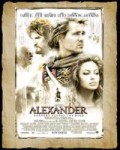 Synopsis
Oliver Stone's "Alexander" is based on the true story of one of history's most luminous and influential leaders (Colin Farrell) – a man who had conquered 90% of the known world by the age of 25. Alexander led his virtually invincible Greek and Macedonian armies through 22,000 miles of sieges and conquests in just eight years, and by the time of his death at the age of 32 had forged an empire unlike any the world had ever seen.
The film takes a bold, honest look at Alexander's life and his relationships with his mother, Olympias (Angelina Jolie), his father Philip (Val Kilmer), his lifelong friend and battle commander Hephaistion (Jared Leto), Roxane, his ambitious and beautiful Bactrian wife (Rosario Dawson), and his trusted general and confidant Ptolemy (Anthony Hopkins). Set in Alexander's pre-Christian world, where social customs and morals were far different from today's, the film explores a time of unmatched beauty and unbelievable brutality, of soaring ideals and staggering betrayals.
His extraordinary journey begins when Alexander launches his invasion from Macedonia, first leading his armies to wrest Western Asia from Persian control, then driving his vastly outnumbered troops to an impossible victory over the mighty Persian army itself. Alexander expands his empire into the unknown lands of modern day Central Asia before venturing across the Himalayan foothills, further than any Westerner had ever gone, continuing his conquests all the way to the exotic world of India. Incredibly, and possibly uniquely in the annals of military history, Alexander was never defeated in battle. He relentlessly pushed his army across the sands, mountains and jungles of strange and mysterious lands, conquering every enemy who dared oppose him.
The film chronicles Alexander's path to becoming a living legend, from a youth fueled by dreams of myth, glory, and adventure, to his intense bonds with his closest companions, to his lonely death as a ruler of a vast empire. "Alexander" is the incredible story of a life that united the known world, and if nothing else, proves that fortune favors the bold.
Dove Review
I thought I had made a terrible mistake – had I walked into a discovery channel presentation about Alexander, or a Hollywood entertainment movie? I double-checked the theatre and my ticket; yes, I was in the right place. All the hype that surrounded this film is just that – hype. The content and information regarding the life of Alexander (which I don't know the historical accuracy of) is excellent, but the movie never really picks up its sluggish pace. Instead, it continues its very monotonous tempo for three long hours. I believe the twelve others who joined me in the theatre would agree, but by the time the credits rolled, I was sitting all by myself.
Even the war/fight scenes were without good energy, as we have been accustomed to in such films as "Troy," "Gladiator" and "The Patriot." The first war scene shown was difficult to decipher, because there was so much dust in the air, I could barely see who was who.
I was very disappointed with "Alexander." A movie about such a historic person should be an epic film. Spoiled in the movie is a very good performance by Colin Farrell. I will give credit to the filmmakers for using very little foul language. As expected, there are many bloody scenes, along with some sex and nudity. Since Alexander descended of Greek heritage, much of the movie includes talk about Greek gods; and his mother (Angelina Jolie) is a sorceress. This film neither satisfies those looking for a good war movie or a family-friendly movie, nor those seeking a historic flick.
Content Description
Violence:
Men shown stabbed to death and beheaded; other war-related wounds. Dead bodies shown covering a battleground.
Sex:
Twice, men attempt to force women into sex; Alexander sleeps with his wife (nudity shown); men shown kissing.
Violence:
Men shown stabbed to death and beheaded; other war-related wounds. Dead bodies shown covering a battleground.
Info
Reviewer:
Bradley B. Klinge