Nursery Tap: Hip to Toe Volume 1
Theatrical Release:
December 7, 2004
DVD Release:
December 16, 2004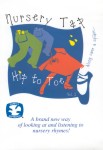 Synopsis
Kids love to dance. Kids love to sing. Kids love stories. Kids love nursery rhymes. This combo CD/DVD is a new collection of updated nursery rhymes for the 21st century. With beautiful costumes, choreography, audio and colorful graphic set design, children will find "Nursery Tap" a stimulating experience of sights, sounds, rhythm, story telling, dance, and song.
Dove Review
As your children watch this video or listen to the CD that accompanies it, they will learn the nursery rhymes along with some dance steps. I believe that this is a very enjoyable learning tool for children. Plus it exposes them to dance and music in a different experience.