Mimi and Sam: Melodies of Nature
Theatrical Release:
February 10, 2005
DVD Release:
February 10, 2005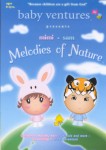 Synopsis
"Melodies of Nature" invites you to discover the wonders of creation though time-lapse photography of the Grand Canyon, exotic beaches, blooming flowers, beautiful waterfalls, and dynamic skies. Your child will be fascinated by the colorful animations, playful puppets and lovable characters as they learn about shapes, colors, animals, fruits and nature. Because children are a gift from God.
Dove Review
This is a great educational film for children newborn to three years. They can learn so much and enjoy all kinds of things from this show. As they watch great sights of nature like waterfalls, sunsets, and the canyons, they will also listen to the sounds of different musical instruments. This film has a variety of things from the scenes of nature, to puppets, animals, music, new words, and sounds. I believe your toddler will enjoy "Melodies of Nature" and learn many things from this very educational video.