Baby Tata
Theatrical Release:
February 10, 2005
DVD Release:
February 10, 2005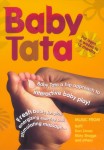 Synopsis
A hip approach to interactive baby play! Think a baby lives life on easy street? All hugs, naps, and food on demand? Think again! Imagine a life where what you see is blurry, where you cant speak, where your limbs won't do what you want them to do, where you hang out in wet diapers until a parent changes them. Now that's stressful!
"Baby Tata" comes to the rescue with its hipster approach to interactive play, exercise, and massage that you can do with your baby. Using massage therapy , karaoke sing-a-longs, innovative games, original animations and energizing exercises routines, it provides hours of bonding and delight, all of it set to a fantastically compiled soundtrack that includes artists such as Raffi, Dan Zanes and Ricky Skaggs.
Monica Doshi, certified infant therapist, takes you though the "Baby Tata" routines by demonstrating the basics of infant massage, play, and exercise, from whimsical and imaginative games to a full instructional on proper massage technique. Finally, a children's video that both you and your baby will enjoy watching.
Dove Review
This video is very informative about baby tata; it provides background information on where baby tata comes from, what you and your baby will need to get started, and two versions to try. This is a very bonding experience for those who have a baby. This can be a relaxing time for you and your baby as you watch and listen to this video.