Duma
Theatrical Release:
April 22, 2005
DVD Release:
May 17, 2006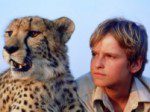 Synopsis
Set in the exotic country of South Africa, "Duma" tells the powerful adventure tale of an unbreakable bond of friendship between a cheetah named Duma and an intrepid young boy named Xan (Alexander Michaletos), who faces the true test of love when he must cross the whole of Southern Africa to return his best friend to his rightful home in the wilds. On his journey, Xan learns that everything always changes, but not love.
Dove Review
(Adapted from the book, How it Was With Dooms, by Carol and Xan Hopcraft) A welcome departure from the predictable boy-and-his-dog story, "Duma" is a wonderful, picturesque, exciting story about a boy and his cheetah. The story is a real adventure set in the unpredictable, intimidating desert of South Africa. Survival skills prove vital for Xan and his unexpected and unwelcome companion, a native named Ripkuna.
The story moves slowly and is a bit stilted in the beginning, but soon it transforms into a real nail-biter. The cinematography is breathtaking, and the direction and editing are skillfully executed. Director Carroll Ballard is experienced at warm-hearted movies like "Duma." He directed two other classic movies depicting young people and their beloved pets – "The Black Stallion" (1979) and "Fly Away Home" (1996). I asked myself how it was that Alex seemed so comfortable with the cheetah; it turns out that he was born and raised on a wild animal preserve in South Africa.