Riding the Bus with My Sister
Theatrical Release:
May 1, 2005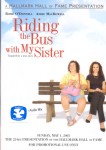 Synopsis
Two sisters, Beth (Rosie O'Donnell) and Rachel (Andie MacDowell), live very different lives. Rachel is a successful fashion photographer in New York City; Beth, who is developmentally challenged, spends her days riding the public buses in the city where the women were raised. When their father dies, Rachel comes home to be with her sister for what's supposed to be a short visit. Initially the two women spar: Rachel tries to impose her type-A personality on Beth; Beth dismisses Rachel as in insensitive intruder in what for her is a relatively happy and satisfying life. As time passes, they at first reach an uneasy truce, then a loving understanding. Inspired by a true story.
Dove Review
Rosie O'Donnell gives an excellent portrayal of the mentally challenged Beth as does Andie MacDowell as Rachel, Beth's sister. The lives of Beth and Rachel become intertwined as a result of their father's death. Rachel is the only one in the family left to help Beth after the loss of their father. Rachel has flashbacks of their childhood and the responsibilities she has for Beth. Beth, on the other hand, is just happy with her world. And even though she misses her father, she wants things to be on the same schedule as they were with him alive. To Beth, life is lived her way and no one is going to make her change. But as time goes on they come together as sisters in spite of their differences.
Info
Company:
Hallmark Hall of Fame