Workout with Callis Club
Theatrical Release:
April 27, 2005
DVD Release:
April 27, 2005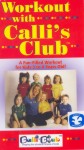 Synopsis
A fun-filled workout for kids 3 to 8 years old. Have fun with Calli's Club. Children are born with an innate curiosity about physical activity and a strong desire to be physically active. "Workout with Calli's Club" provides children with an opportunity to become active in a safe and healthy way that will help create body awareness and self confidence, improve physical coordination and rhythm, improve flexibility and balance, improve cardiovascular fitness and strength, and promote imagination. This video leads children through a structured fitness workout that can be completed with the use of a fitness ball, a ribbon stick and a bean bag.
Dove Review
This video shows the fun that a parent and child can have together while they are exercising. It offers an opportunity for a parents and kids to bond while participating in a healthy activity. Calli's mom, Jodenne Townsend, has worked in the health and fitness field since 1988 and holds a master's degree in exercise science. She is a certified aerobic instructor by the ACE. She specializes in the areas of strength training for women and children's fitness. This is a fun and fast-paced way to get yourself and your child up to speed with exercise. Any child will be entertained and have fun while getting his or her body fit.