Garfield and Friends Volume One
Theatrical Release:
April 27, 2005
DVD Release:
April 27, 2005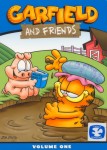 Synopsis
Get set for the first "Garfield and Friends" collection, featuring 24 episodes of the hilarious animated Saturday morning TV series starring that fat and sassy feline who lives for lasagna and can't stand diets, exercise and Mondays. Along with his not-too-bright pooch pal Odie and gullible owner Jon, Garfield coughs up a hairball of humor that every human will love. Each episode contains a Garfield sandwich, featuring two slices of Garfield and a chewy center of "U.S. Acres," the show featuring Garfield's farm-fresh friends, also created by comic genus Jim Davis.
Dove Review
Episode One: "Peace and Quiet" – Garfield tries everything just to get some sleep. "U.S. Acres Wanted Wade" – After pulling off the tag to a pillow, Wade thinks the cops are after him. "Garfield Goes Hawaiian" – Garfield gets a cat flu that makes him dance the hula.
Episode Two: "Box O Fun" – Garfield imagines a common box is a plane and train and spaceship and more. "U.S. Acres Unidentified Flying Orson" – Orson thinks aliens are landing on the farm. "School Daze" – Garfield is sent to an obedience school.
Episode Three: "Nighty Nightmare" – Garfield eats too much before bed and has a nightmare about food. "U.S. Acres Banana Nose" – Everyone on the Farm makes fun of Roy's banana-looking nose. "Ode to Odie" – A "raven-like" poem about what Odie does in a day.
Episode Four: "Fraidy Cat" – Garfield watches a scary movie during a storm and gets scared. "U.S. Acres Shell Shocked Sheldon" – Sheldon tries to hatch himself.
"Nothing to Sneeze At" – Garfield once again has to go to the vet for a cold.
Episode Five: "Garfield's Movie Experience" – Garfield meets a girl that gives him anything he wants. "U.S. Acres Wade You're Afraid" – Wade is scared of everything and the guys on the farm try to help him. "Good Mousekeeping" – Garfield has to learn to catch mice.
Episode Six: "Identity Crisis" – Garfield thinks he's a dog. "U.S. Acres The Bad Sport" – Orson tries to teach the guys on the farm about being a good sport. "Up a Tree" – Garfield gets stuck up a tree all day.
Episode Seven: "Weighty Problem" Garfield can't lose weight. "U.S. Acres The Worm Turns" – Sheldon and Booker spend all day trying to catch a worm. "Good Cat Bad Cat" – Garfield battles his conscience.
Episode Eight: "Cabin Fever" – Garfield is snowed in a cabin with nothing to do. "U.S. Acres Return of Power Pig" – Orson pretends to be a gallant superhero. "Fair Exchange" – Garfield and Jon switch bodies and see how it is to live as the other person.
Episode Nine: "The Binky Show" – Garfield goes on the Binky show. "U.S. Acres Keeping Cool" – Everyone on the farm tries to act like they're better than everyone else. "Don't Move" – Garfield confines Odie to a circle drawn on the ground.
Episode Ten: "Magic Mutt"- Garfield meets a dog who thinks he's magical. "U.S. Acres Short Story" – Booker is tired of being shorter than everyone else. "Monday Misery" – It seems to Garfield that Monday will never end.
Episode Eleven: "Best of Breed" – Garfield enrolls in a dog show. "U.S. Acres National Tapioca Pudding Day" – Roy tricks everyone into believing it's National Tapioca Pudding Day. "All About Odie" – Garfield anatomizes Odie and his behavior.
Episode Twelve: "Caped Avenger" – Garfield thinks that he is a superhero. "U.S. Acres Shy Fly Guy" – Wade tries to fly, but is too scared to get off the ladder. "Green Thumbs Down" – Garfield and Odie try to make a garden, but it doesn't work out.
Episode Thirteen: "Forget Me Not" – Garfield forgets who he is. "U.S. Acres I Like Having You Around" – Bo and his sister normally fight, but they realize that they need each other. "Sales Resistance" – Garfield has to get rid of a door to door salesman.
Episode Fourteen: "Pest of a Guest" – Jon takes another kitty in the house and it wears out it's welcome quick. "U.S. Acres The Impractical Joker" – Roy's pranks get on everyone's nerves. "Fat and Furry" – Jon comes into some money and Garfield is living it up.
Episode Fifteen:"Rip Van Kitty" – Garfield as Rip Van Winkle. "U.S. Acres Grabbity" – A lesson on sharing. "The Big Catnap" – No matter what Jon does, he just can't wake up Garfield.
Episode Sixteen: "The Great Getaway" – Jon takes a girl on a date and Garfield follows them everywhere. "U.S. Acres Scrambled Eggs" – A turtle mistakes Sheldon for her own baby turtle egg. "Hansel and Garfield" – Garfield meets a girl cat just like him.
Episode Seventeen: "The Sludge Monster" – Due to dirty conditions, Garfield and Odie must now deal with the sludge monster. "U.S. Acres Fortune Kooky" – Wade gets a bad fortune in his cookie and freaks out. "Heatwave Holiday" – The seasons and the holidays clash and Garfield tries to make it work.
Episode Eighteen: "One Good Fern Deserves Another" – The house fern comes alive and chases Garfield around. "U.S.Acres Goody-Go-Round" – The farm animals find a record player. "The Black Book" – Garfield teases Jon about his lack of "lady friends."
Episode Nineteen: "The Legend of the Lake" – Garfield pretends he's a prehistoric cat. "U.S. Acres Double Oh Orson" – Orson becomes sophisticated. "Health Feud" – Jon joins a health club and struggles to keep up.
Episode Twenty: "Binky Gets Canceled" – Binky the Clown's show gets taken off the air. "U.S. Acres Show Stoppers" – Orson and the farm put on a talent show. "Cutie and the Beast" – Garfield and Nermal battle about who's cuter.
Episode Twenty One: "The Lasagna Zone" – Garfield gets sucked into the TV. "U.S. Acres Sleepytime Pig" – With Orson sleeping all day the rest of the animals don't know what to do. "YoJumbo" – Jon carts Garfield with him to a martial arts class.
Episode Twenty Two: "Pros and Cons" – Odie meets some rough alley creatures. "U.S. Acres Rooster Revenge" – Roy's friends decide to get back at him for all his pranks. "Lights Camera Garfield" – Garfield gets to be on TV and have his 15 minutes of fame.
Episode Twenty Three: "Polecat Flats" – Garfield and Jon go western and learn that there's no place like home. "U.S. Acres Hogcules" – Orson imagines that he's the world's strongest pig. "Brain Boy" – Garfield gets a robot and learns technology is more work than it seems.
Episode Twenty Four: "Maine Course" – Garfield battles a lobster into the pot for dinner. "U.S. Acres No Laughing Matter" – Roy reads a book and thinks everything is fake until the creatures in the story come alive. "Attack of the Mutant Guppies" – Garfield had to fend off some crazy mutant fish on a camping trip.
Info
Company:
20th Century Fox Home Ent.