The Stranger on the Road to Emmaus
Theatrical Release:
June 15, 2005
DVD Release:
June 15, 2005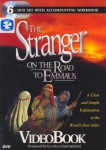 Synopsis
Take an unforgettable journey through the Bible. Here is an eleven-hour video series that explains the greatest Bible themes clearly and logically. Rather than focusing on a part – and missing the whole – the teacher chronologically binds together the entire text into one great universal drama, looking at events from the perspective of those who experienced history in the making. The results are sometimes comical, sometimes frightening – but always true to the intent of the text. When you are done watching it, you may find yourself believing "The Book" like you never have before. Or you may decide not to. The objective approach leaves the decision up to you.
It's been called "the greatest story ever told." Now the central message of the Bible is brought to life in this eleven-hour DVD series. Using a combination of classroom instruction, visual aids, animated graphics, and footage shot on location in Biblical lands, the teacher chronologically ties the text together into one universal drama. A workbook is included to enhance understanding and offer further insight. Whether you have significant Bible knowledge, or have never read "the Book" in your life—this series is for you.
Dove Review
This series is is an opportunity for anyone who may have read the Bible and didn't understand it very well, or someone who has never read the Bible and would like to learn what it is all about. Even those who know the scriptures backwards and forwards, but would still like a little clarity to what they are reading, would enjoy this video set.
This set has six DVDs, and on each DVD the timeline starts from when God spoke and created the heavens and the earth to the resurrection of John the Baptist – each with a corresponding part in the included work book. So you watch each chapter and each DVD and use your work book and dive further into the stories and true meaning of the Bible. I believe this series to be a really good tool to learn about the Bible in a simpler manner, on your own time and at your own pace. I think it's a really good product, and I would reccomend it to everyone who wants to know more.