Rainbow Valley Fire Department
Theatrical Release:
June 15, 2005
DVD Release:
June 15, 2005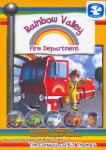 Synopsis
The "Rainbow Valley Fire Department" animated series will take you on a magical journey beyond the clouds to the end of the rainbow where a gang of friendly emergency vehicles live, play, and go on rescue adventures helping those in need.
Welcome Home Luna – When the gang convinces Freddy and Pam to let them have a puppy, they learn a lesson in responsibility when they're called away to an emergency and leave the mischievous puppy alone at the firehouse.
Inspection Day – When Speedy-the-Ambulance thinks that only fire trucks can win first prize on Inspection day, she runs away and gets caught in a storm. The gang rescues her but it's Speedy who ultimately has to save the day.

The Haunted Forest – When Freddy arrives to find Farmer Cornfield's barn ablaze, he doesn't have enough hose to reach the fire. Gusher must overcome his fear and drive through the "Haunted Forest" in order to get water to Freddy in time to put out the fire.
Dove Review
This DVD has a few really good lessons in it. The first episode tries to teach young kids about the importance of responsibility. You can't take care of an animal, especially a puppy, when you have other important things to do that cause you to be gone a lot. The second episode focuses more on self-esteem and being confident with yourself. Speedy didn't think that she could measure up, but in the end it was she who had to save the day. The third and last episode deals with overcoming your fears and being brave when it counts. All in all, this video was entertaining and it teaches really good lessons, so I would recommend it to parents everywhere for an alternative to all of the filthy programming out there right now. Make the moral choice and choose the "Rainbow Valley Fire Department."
Info
Company:
Rainbow Valley Fire Department
Industry Rating:
Not Rated