Baby Wonders: Wonders in the Forest
Theatrical Release:
August 16, 2005
DVD Release:
September 1, 2005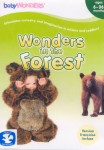 Synopsis
Be enchanted by a cast of charming young children as they learn, imagine, and have fun in this colorful and fun-filled costume adventure. Follow adorable forest fairies as they walk though the woods and discover amazing animals on their journey. Explore an imaginary world where curious toddlers mimic a burly bear, a prickly porcupine, a crafty cougar and other creatures in their natural habitat. Each scene bursts with the specially orchestrated sounds of classical music, Irish jigs and nursery rhymes. Unleash your child's imagination in a wonder-filled world of pretend play!
Dove Review
Your toddlers will enjoy and learn as they watch this great educational DVD. They will watch other toddlers in costumes, learn about many different animals, and listen to some very enjoyable music. The children in this are adorable in their costumes of different animals. Help your child learn about animals, music and words with this educational movie. This DVD comes in 3 languages: English, French, and Spanish, and has sing-along-songs and tips for creative play.