Valiant
Theatrical Release:
August 19, 2005
DVD Release:
December 13, 2005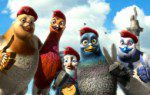 Synopsis
A comedy-adventure tale of a brave-but-undersized pigeon named Valiant (voiced by Ewan McGregor), who dreams of joining the elite Royal Homing Pigeon Service (RHPS), and serving crown and country during World War II. Despite his small stature, Valiant's ambitions are enormous as he keeps a stiff upper beak and endures rigorous training in preparation for a dangerous mission to deliver vital messages to troops behind enemy lines. With a shortage of wingpower in the royal fleet due to increased attacks by a brigade of vicious enemy falcons (led by the ruthless General Von Talon), the mission falls to Valiant and the unlikely heroes of "Squad F" to try and save the day. With a wing and a prayer, Valiant and his fine feathered pals fly into harm's way and prove that it's not the size of the wingspan that counts, but the size of the spirit.
Dove Review
Valiant is one of those rare animated movies that has something for the entire family, regardless of age or gender. I usually try to look at animated G-rated films through the eyes of a child, which was getting pretty challenging until I finally had grandchildren. Valiant is set against the backdrop of WWII. You might think it difficult to tell a humorous story with its share of slapstick, without making light of the darkest period in world history. The creators did a skillful job of balancing history with comedy.
The animated backdrop has an authentic, true-to-life feel. The planes, ships, tanks, and even the white cliffs of Dover seem to be photographed rather than animated. For us older folks, the filmmakers even use a recording of French torch singer Edith Piaf, singing her famous song "Je ne regrette rien" ("I have no regrets"), that inspired so many Frenchmen during the dark days of the Nazi occupation.
Among the lessons learned is the critical role animals, especially homing pigeons, played in the war. For example, I didn't know that Britain actually awarded the Dicker Medal to animals that made significant contributions to the war effort. And the flying heroes represented in this movie received the most medals of all the animals who served with distinction.
Don't get the wrong idea. This movie has plenty of laughs and visual humor. While I was getting my history lesson, I was fully entertained by the story of Valiant, a puny pigeon with an enormous heart. His courage overcomes his size disadvantage, which inspires his fellow "warriors." The victorious surprise ending has more significance for adults than the little people.
Everyone will come away with something of value after watching "Valiant."