Rockin Real Wheels
Theatrical Release:
October 12, 2005
DVD Release:
October 12, 2005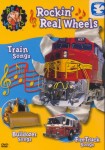 Synopsis
Hop aboard with 3 magical, musical adventures!
"Train Songs" – See what it's like to be an engineer and a conductor. Tuffy the train guides you through the exciting world of trains old, new, high-speed and long on a marvelous cross-country journey.
"Bulldozer Songs" – Join a construction crew and dig into the ground-shaking, earth-moving real world of heavy machinery with your animated Rocky Dozer.
"Fire Truck Songs" – Firefighters and you swing into action to rescue people and put out blazes. Friendly the fire truck invites you to see what it's like to operate pumpers, ladder trucks and rescue units.
Dove Review
This DVD is educational and musical for children of all ages even though it is aimed at the 2 to 6 age group. The music is sensational and the information that is told in each segment is amazing. As the children learn about trains, bulldozers and firetrucks, they also will want to learn the songs and sing aong. There is so much great information for kids to learn in this DVD while having a great time.
Info
Industry Rating:
Not Rated