The 12 Dogs of Christmas
Theatrical Release:
November 1, 2005
DVD Release:
November 1, 2005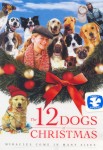 Synopsis
Upon being sent to live with her aunt in the small town of Doverville, 12-year-old Emma O'Conner finds herself in the middle of a 'no-dogs' law, Emma with the Mayor and town dogcatcher. In order to strike down their 'no-dogs' law, Emma must bring together a group of schoolmates, grown-ups and adorable dogs of all shapes and sizes in a spectacular holiday pageant. "The 12 Dogs of Christmas" is a fun, heartwarming story featuring a diverse canine cast of over 101 pooches, perfect for all those who love dogs, kids and Christmas.
Dove Review
"12 Dogs of Christmas" was created as the result of an inspiration by producer Ken Kragen's 7 year-old daughter, Emma. She rewrote the lyrics of the traditional advent song, "Twelve Days of Christmas" into a canine version on a restaurant napkin. That set Ken and his friend, writer/director Kieth Merrill, to wondering what the back story to such a thought-provoking lyric would look like. And, voila! This charming Christmas story was born.
At the risk of redundancy, his movie is a classic family classic; sure to be around for a long time. Stories about a child and his/her dog have been done and redone ad nauseum. "12 Dogs of Christmas" is a clever treatment of this age-old theme. Actors Jordan-Clair Green and Adam Hicks are well cast as two misfits who find meaning by banding together in a complex, but honorable plot to save their town from doggy extinction.
I watched a big screen showing of this film in the presence of about 300 people, most of whom were under age twelve. The end was met with spontaneous cheers and applause by the captivated attendees, myself included.
Info
Starring:
Jordan-Claire Green
,
Adam Hicks
,
Alisha Mullally
,
John Billingsley
,
Bonita Friedericy
,
Eric Lutes
,
Richard Riehle
,
Susan Wood
,
Travis Flory
,
Jim Jackman
,
Mindy Sterling