Walk The Line
Theatrical Release:
November 18, 2005
DVD Release:
February 28, 2006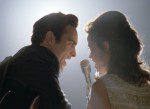 Synopsis
The story begins in Depression-era Arkansas, tracing the origins of Cash's sound back to his beginnings as a sharecropper's son; moves through his wild tours with rock and roll pioneers Elvis Presley, Carl Perkins, Roy Orbison, Jerry Lee Lewis and Waylon Jennings; and culminates in his unforgettable 1968 concert in Folsom Prison. He became the hottest artist of the day, outselling even the Beatles. WALK THE LINE chronicles the birth of a new kind of American artist who had to move past raw anger, the ravages of addiction, and the temptations of stardom to discover the voice that would make him a hero to generations. Those early years encompass the themes that ran through Cash's music and minimalist style: death, love, treachery, sin, hope and faith.
Dove Review
"Walk the Line" is another Bio-pic that is very well written and contains some mighty fine acting by Joaquin Phoenix (Johnny Cash) and Reese Witherspoon (June Carter). These two performers sing the songs themselves and the work they do in this film is some of their best. There is no doubt in my mind that they both will not only be nominated for an Oscar in the Best Actor and Best Actress category, but that they both will win an Oscar.
While "Walk the Line" was well made, it is not considered a family film by Dove standards. The obscene language, the adulterous affairs and Cash's drug addiction put it out of reach to receive the Dove Seal.
I expect "Walk the Line" will be a box office and critical success.
Content Description
Violence:
Boy hurt in accident while cutting wood with a saw, blood shown on bandages; woman hits man;
Violence:
Boy hurt in accident while cutting wood with a saw, blood shown on bandages; woman hits man;
Drugs:
Lots of beer drinking; Cash takes and becomes addicted to prescription drugs; man arrested for bringing drugs across the boarder; men get drunk a few times
Info
Company:
20th Century Fox
Writer:
Gill Dennis and James Mangold