Mrs. Henderson Presents
Theatrical Release:
December 9, 2005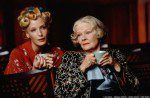 Synopsis
Recently widowed well-to-do Laura Henderson is at a bit of a loose end in inter-war London. On a whim she buys the derelict Windmill theatre in the West End and persuades impresario Vivian Van Damm to run it, despite the fact the two don't seem to get on at all. Although their idea of a non-stop revue is at first a success, other theatres copy it and disaster looms. Laura suggests they put nudes in the show, but Van Damm points out that the Lord Chamberlain, who licenses live shows in Britain, is likely to have something to say about this. Luckily Mrs Henderson is friends with him.
Dove Review
The very premise of "Mrs. Henderson Presents" makes the film an unlikely candidate for the family-friendly seal. It's loosely based on the true story of a widow who invests her inheritance in restoring an old theatre into a spectacular stage for London's first all-nude review. This movie is interesting and unpredictable. Bob Hoskins and Judi Dench are simply remarkable together. The nude-review storyline plays second fiddle to the bombings of London and loss of military life which are both sensitively and emotionally portrayed.
Info
Company:
Miramax Pictures