Lay it Down
Theatrical Release:
July 1, 2001
DVD Release:
July 1, 2001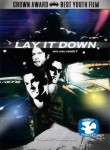 Synopsis
A film that is sweeping the country and impacting lives in its path. "The Fast and the Furious" has proven that street racing is a national phenomenon. Here is an evangelistic answer for those interested in fast cars, and the fast life. This is a drama about the reality that there is more to life than what most people value.
"Lay it Down" is an explosive drama set against the teenage world of illegal street racing. Ride with Ben Destin (Sean Mc Ewen) as he finds the way on the narrow road to eternal life through Jesus Christ. Once he finds this route, he encourages all of his friends to discover the same freedom.
"Lay it Down" is a powerful, ground-breaking evangelistic film. Its compelling delivery and heart-pounding action make it a must see for teens and young adults. From the producers of "The Moment After" and "Mercy Streets."
Dove Review
"Lay it Down" is a powerful evangelistic tool and this award-winner will appeal to many young Christians who no doubt will use it as a witnessing tool. The story is about young Ben Destin, who illegally races cars and is popular with many young adults, including his brother. A car accidents leads to his conversion and the film is essentially about his determination to reach others with the gospel message that he embraces. He endures a lot of bumps as many of his old friends and his own brother do not care for the changes in his life. Ben makes a deal to race one last time in order to share the gospel with the participants and viewers of the race.The acting is adequate, with strong performances by Lisa Cash as Ben's old girlfriend, and by Francesca Caro, who plays his mother.
The movie has no major offenses in it from a family perspective, with the possible exception of Ben's girlfriend, who immediately following his conversion drops by his house and attempts to make love to him, which Ben instantly rejects. The scene is handled delicately however, and Ben's mother invites the girl to the kitchen to "talk."
Content Description
Sex:
Girl wants to make love to boyfriend who rejects her. Girl learns she is pregnant by another boy.
Info
Company:
ChristianCinema.com
Reviewer:
Edwin L. Carpenter