The Ringer
Theatrical Release:
December 23, 2005
DVD Release:
May 16, 2006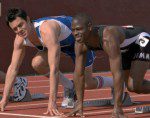 Synopsis
This comedy is about two guys who decide to rig the Special Olympics to pay off a debt by having one of them, Steve (Knoxville), pose as a contestant in the games, hoping to dethrone reigning champion, Jimmy. Mentally-challenged high jinks and hilarity surely follow
Dove Review
I have mixed feelings after viewing "The Ringer." On the one hand, the film did show the Special Olympians outsmart Stevie, the main character who plans to rig the Special Olympics. He plans to do this in order to raise money for a man who is badly injured while working for him. He even becomes good friends with the Special Olympians. On the other hand, it does include some degrading comments about them, including a "retards" comment, and it could offend some people. Most people will recognize that the film truly aspires to see the best in these "special" people. It's worth noting that the Special Olympics Committee approved the film themselves.
The acting is good overall and the real-life special people handle their acting very well. There are some genuinely funny moments in the film, such as in one scene when one Special Olympian tells Stevie, "There is Medicare, Medicaid, and Afflack!" and he pours his heart into the last word. Still, the language is very strong and frequent and cannot therefore be approved by Dove. There is also a "flipping off" scene. It's too bad since the character of Stevie grows as a person in the film and takes responsibility for his actions in the end. But the profanities make the fillm very difficult to sit through.
Info
Company:
Fox Searchlight Pictures
Producer:
John L. Jacobs and Bradley Thomas
Reviewer:
Edwin L. Carpenter