The New World
Theatrical Release:
January 20, 2006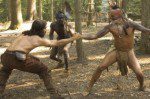 Synopsis
A Terrence Malick-scripted drama about explorer John Smith and the clash between Native Americans and English settlers in the 17th century.
Dove Review
You should immediately be told that this film was not marketed as being "based on a true story" as little other than fiction can be found in this epic let down. Terrence Malick should have concerned himself more with the writing than the directing of this piece of revisionist history and the actors spend more time narrating their stories than speaking actual dialog. Scene after scene either drag on too long or flash by so quickly that you have no sense of perspective in this MTV meets classic 40's film-making production. "The New World" was simply over directed, over orchestrated, over edited and over acted. The only thing it wasn't, was over soon enough for me.
While their is no objectionable dialog and any possible sexual relationships are only slightly implied, violence keeps this film from receiving the Dove Seal.