Quigleys Village Series
Network Premier:
June 15, 1991
DVD Release:
June 15, 1991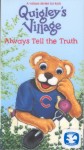 Synopsis
Welcome to Quigly's Village– a delightful place where children learn biblical values through the adventures of lovable puppet friends. Filled with songs, humor, amd fun, this award winning series combindesthe very best in entertainment with important lessons in values to help children learn and grow. When Danny Lion is given money to buy decorations for the fun day picnic, he ends up buying a pet "blobbit". To Cover up what he has done, danny lies to Mr. Quigley and his friends.One Lie leads to another untill danny feels so bad that he buries the "Blobbit". Then, when a rain storm hits Quigly's village, he is faced with a new problem! Through Danny's Adventures and Mr. Quigly's loving advice, children will see for themselfs we should always tell the truth.
Dove Review
Other videos in the series include: "Christmas", "Scary Sounds in the Campground", "Lemon and the Kite Flying Catastrophe".