Vertical Hold: Alternative Christian Animation and Video
Theatrical Release:
February 1, 2006
DVD Release:
February 1, 2006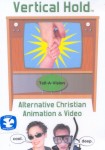 Synopsis
A short collection of animated stories which include humor and drama and make spiritual points.
Dove Review
This collection of Alternative Christian animation and video is difficult to classify. It runs the gamut from the humorous to dramatic, and it includes short vignettes which target Christians and non-Christians alike, encouraging them to seek the spiritual guidance of God in all situations.
It includes the award-winning "Glory," which begins by showing the tragedies and suffering of this world – a sad young man hears the words, "You're fired," and "I'm leaving you." Then one sees other sad faces, including a woman in despair, and the knifing of a man, a car accident, a man on oxygen dying in the hospital, and drug use. Then a dove is seen flying to the sad man's apartment and he enters, next turning into an angel. He tells the young man, "Holy, holy, holy, is the Lord Almighty. The whole earth is full of his glory." Then cut away to the scene of the man in the hospital being healed, the knifed man going to heaven, a sad woman begins to smile and finally, a scene in which an angel cuts away at a demon, destroys him, and is then joined by a host of angels.
The point is strongly made that God is still in control. Another point strongly made is in the scene which shows the faces of the people on the bodies of candles, a reminder that Christians are to be lights to the world. There are a total of six short animated stories and a lot of humor, including a Christian's mind being flushed out of all the junk that has been put in, and the sound of a toilet flushing is heard. But it is recommended for ages twelve and up as it does show a gunman shooting an old woman. The idea is that evil shows no mercy and God is needed but it is a bit intense for younger viewers. These short animated stories are to be used as a teaching tool and this DVD does include other award winners. Young teenagers will enjoy it.
Info
Company:
Vertical Hold Productions
Reviewer:
Edwin L. Carpenter