Christmas Miracle at Sage Creek
Theatrical Release:
November 25, 2005
DVD Release:
May 30, 2006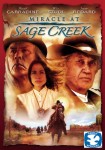 Synopsis
Two families overcome prejudice and tragedy in 1888 Wyoming when a special Christmas miracle saves the life of a small boy.
Dove Review
This is a well made production with a good story and fine acting and direction. Some may think the ending is too nicely wrapped, but then again, the conclusion does take place at Christmas. David Carradine plays a character named Ike, who doesn't like his son-in-law nor Indians. Carradine is in fine form in this role. The rest of the family is friendly with a white man, John, who married an Indian woman named Sunny and has a son. The character development is one of the strong points of this western-drama, and the story draws the viewer in to learn the fate of a little boy and of John, who is shot and left to die unless he finds the strength to make it home. The dramatic elements of prejudice and tragedy work well in this western. The language is mild and the violence is not gratuitous. This film is Dove approved for ages twelve and up.
Info
Reviewer:
Edwin L. Carpenter