Dr. Dolittle 3
Theatrical Release:
April 25, 2006
DVD Release:
April 25, 2006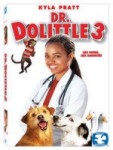 Synopsis
Maya Dolittle (Kyla Pratt) just wants to be a normal teenager, but there's one small problem…She's inherited her father's uncanny ability to talk to animals! Her special talent keeps landing her in the doghouse with her parents, and it's driving her friends completely ape! At a summer dude ranch, Maya tries to hide her unique ability so she can fit in, but when her friends are in trouble, she comes to the rescue as only a Dolittle can – enlisting the aid of the ranch's uproarious and outrageous talking animals! This hilarious third installment of the wildly popular Dr. Dolittle series is more family fun than a barrel of talking monkeys…and lots easier to clean up after!
Dove Review
The story of Dr. Dolittle's daughter Maya and her subsequent "coming of age" makes an interesting tale once she leaves home for the summer to go to the Durango Ranch, where she meets a young rancher named Bo. The misfits and city slickers who ride with her on the bus all come together and eventually bond as they share a common goal – to save the financially troubled ranch.
The film does have some moments in it which families should be aware of, including flatulence by animals, and Maya's disobedience to her mother in the beginning of the film. But Maya is caught and has to deal with the consequences.There is also a scene in which one of the talking animals refers to a cop as a pig. As there is competition between Maya and another girl for the attention of Bo, and some crude language in spots, parents should be aware of these brief moments. There are several utterances of the name "God" but not with a curse. The movie's message of team work and personal growth is an uplifting one which makes the film worth viewing.
Info
Company:
20th Century Fox Home Ent.
Reviewer:
Edwin L. Carpenter