Failure to Launch
Theatrical Release:
March 10, 2006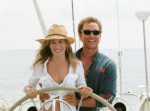 Synopsis
Tripp (Matthew McConaughey) has never been able to leave the nest. He's always had some reason or other, but now, his desperate parents have had enough. They hire the gorgeous and talented girl of his dreams (Sarah Jessica Parker) to get him to move out of the house.
Dove Review
"Failure to Launch" has many original funny moments, especially when Terry Bradshaw and Kathy Bates are on the screen. I found the entire plot to be somewhat similar to McConaughey's other romantic comedy "How to Lose a Guy in 10 Days", although his character in this one is much more childish and self absorbed.
This could have been a wonderful family romantic comedy absent all the sex scenes and the obscene language. I also fail to understand why almost every romantic comedy these days relies on characters deceiving each other as the main foundation in the relationships of the main characters. "Failure to Launch" is a total failure for family audiences.
Info
Writer:
Tom J. Astle and Matt Ember