Spectrum Connections: Connecting Body Movement
Theatrical Release:
November 22, 2005
DVD Release:
November 22, 2005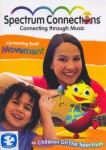 Synopsis
Before now, there has been no entertainment designed specifically for autistic children. "Spectrum Connections" DVDs and CDs are designed to provide thousands of motivated children and often overwhelmed parents with relief and joy at seeing their children appropriately entertained. The first Connections DVD "Connecting through Body Movement" was created by Cleve Keller, the mother of an autistic child. The videos are hosted by Elizabeth Balzano, MA, MT-BC, a practicing music therapist, and feature Balloo, a computer animated character.
"Spectrum Connections" is produced under the guidance of autism medical specialists and designed for the special needs of autistic children. Pacing and transitions enhance the ease of information reception, complex color patterns and textures in wardrobe and background are limited to minimize over-stimulation, and Balloo engages and sustains viewer interest. The music and lyrics maximize accessibility and comprehension through generalization, repetition and appropriate modeling of song content.
Dove Review
It is great to have a DVD that is geared toward special needs children. Sometimes in the mix of life the world does not think of everyone when it comes to entertainment. "Spectrum Connections" has done a fantastic job in creating this special DVD for those children with autism. Plus the bonus feature for parents may answer some of the questions that they might have. This is something that has the potential to help all of the family members of autistic children.
Info
Starring:
Elizabeth Balzano MA MT-BC,
Balloo