American Haunting, An
Theatrical Release:
May 5, 2006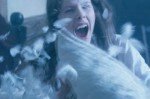 Synopsis
Something terrifying happened to the Bell family of Red River, Tennessee, nearly 200 years ago, causing the death of one of its members, the only validated case in U.S. history where a spirit or entity caused the death of a human being.
Bell family patriarch John (Donald Sutherland) and his wife Lucy (Sissy Spacek) are pillars of their community but when a land deal goes sour with one of their neighbors, the woman — generally considered to be a witch — curses the family and in particular their beautiful daughter, Betsy (Rachel Hurd-Wood). Soon after, a series of increasingly terrifying episodes are visited upon Betsy and John by a malicious unseen entity. A friend, Richard (James D'Arcy), the local school teacher, tries to help but nothing can stay the demonic onslaught, finally resulting in death for one of the family. It becomes clear that the Bells and their descendants will never really be totally free from the evil that haunts them — an entity which they themselves may have helped to create.
Dove Review
The generic title "An American Haunting" is symbolic of the overall unoriginality of this film, which lasts from beginning to end. The film's opening premise, that this particular American haunting is somehow different from all the others, turns out to be quite false as far as occult themes are concerned. Apparently cursed by a witch over a land deal gone bad, John Bell (played by Donald Sutherland) and his teenaged daughter Betsy, residents of Tennessee in the year 1817, are tormented by an invisible entity. As Betsy is slapped, dragged across the floor, pulled by her hair, and at one point raped by an unseen presence, the plot of the movie is not advanced in any way. When the truth behind the haunting is finally revealed, it is quite confusing as there was no previous evidence that what is claimed actually took place.