Between the Walls
DVD Release:
March 7, 2007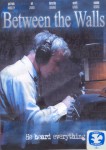 Synopsis
When Peter learns that his childhood home is being repossessed, he must pack up a lifetime of memories. In the basement of the house there is a locked door that only Peter's late father was allowed to open. Entering the locked room, Peter discovers that his father recorded everything ever said in the house onto audio cassettes. Now Peter must deal with the question: "If my father knew everything and held it against me, how can I believe that God isn't going to do the same thing?" It is a powerful drama full of suspense, conviction and redemption that is sure to be enjoyed by the whole family.
Dove Review
This drama is very intense from beginning to end. Many issues are dealt with, such as emotional abuse, losing faith and the redemption of forgiveness from God. Sometimes in our lives when things don't go our way we blame God and the people around us, until we come to terms to forgive others, and to be forgiven ourselves.
The 12+ approval rating is given due to the film's portrayal of emotional abuse, which may be inappropriate for younger children.
Info
Company:
Glowing Nose, LLC
Industry Rating:
Not Rated