Mind Snacks Volume One
DVD Release:
May 30, 2006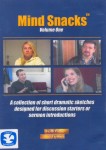 Synopsis
What are mind snacks? Every now and then we all need a little nudge to get us thinking about what we believe and why. With the pastor and youth group leader in mind these short films do just that. Volume One contains four sketches; two comedic and two serious. "Mind Snacks" are sure to get people talking and help you illustrate a point.
Dove Review
These short dramatic sketches are done in a contemporary setting which will make it easy for most people who view them to relate to them. The sketches deal with several issues; for example, in one of them a man who has become a Christian runs into an old high school buddy who is not a Christian, and the differences are soon apparent. Does the Christian make a good decision in how he reacts? In another one a newly hired stock boy is not fulfilling his duties and he attempts to shrug it off when his boss talks to him.
The sketches provoke thought and the viewer will inevitably form some opinions and hopefully share them in a group setting. These "mind snacks" can be nutritional if the viewer discerns the themes and puts into practice working on areas of spiritual lack. Regarding the content in the programming, one man in the "Good Old Days" sketch mentions "girlie magazines," and in "Megan" it is revealed a woman became pregnant out of wedlock and this sets up a discussion in the program. Due to the subject matter, this DVD is recommended for ages twelve and above.
Info
Company:
Justice Pictures
Writer:
Shawn Justice and Seth Hines
Industry Rating:
Not Rated
Reviewer:
Edwin L. Carpenter