The Secret World of Benjamin Bear: Lessons to Learn
Theatrical Release:
June 1, 2006
DVD Release:
June 1, 2006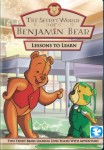 Synopsis
An animated series for children ages three and older, "The Secret World of Benjamin Bear" has been licensed for broadcast in more than 60 territories and is already a hit with international broadcasters. The series takes children into the teddy bears' secret world where they lead lives full of amazing adventure. Benjamin Bear guides Howie, a rookie teddy bear, through magnificent escapes in their quest to bring happiness and comfort to kids. The teddy friends will do just about anything to ensure the happiness of the kids they love, but more often than once, this teddy-twosome comes dangerously close to breaking several of the "Teddy Bear Rules," the most important being, "A teddy bear can never let people see it move!"
Dove Review
Everyone remembers their favorite teddy bear and the how they went every where with you. This series with Benjamin Bear shows consequences when wrong choices are made. Benjamin Bear and his friend Howie are delightful to watch. These three fantastic stories will keep everybody entertained and you will learn some important lessons regarding jealousy, other peoples' feelings, and what may happen if you get into trouble along the way.
Info
Company:
PorchLight Entertainment
Industry Rating:
Not Rated