The Proposition
Theatrical Release:
June 9, 2006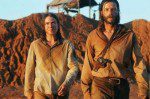 Synopsis
Set in Australia in the 1880s, the film opens in the middle of a frenzied gunfight between the police and a gang of outlaws. Charlie Burns (Guy Pearce) and his brother Mikey are captured by Captain Stanley (Ray Winstone). Together with their psychopathic brother Arthur (Danny Huston), they are wanted for a brutal crime.
Stanley makes Charlie a seemingly impossible proposition in an attempt to bring an end to the cycle of bloody violence. Charlie is released to hunt down his murderous older brother in order to save his younger brother from the noose.
Dove Review
The film tells the tale of an outlaw gang of brothers in the Australian Outback, whose violent acts are initiated and perpetuated by the oldest brother. When the younger brothers leave, unwilling to take part in any more violent activities, they are captured. An epic moral struggle follows when Charlie, the middle brother, must chose between saving his younger brother Mikey and killing his older brother, Arthur. "The Proposition" is an extremely graphic, gory, violent movie; however, it delves into human nature with a depth rarely seen in films. "The Proposition" is highly stylized, and the director creates a paradoxical atmosphere, surreal at times yet seemingly realistic. The screenplay and music are written by the singer/songwriter Nick Cave, in an impressive film debut. However, there are racial slurs and due to the extreme violence, this film is not Dove approved.
Info
Company:
First Look Studios