The Lake House
Theatrical Release:
June 16, 2006
DVD Release:
September 26, 2006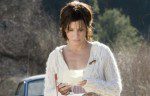 Synopsis
The movie centers around lonely Dr. Kate Forster (Sandra Bullock), who, on a winter morning in 2006, reluctantly leaves the beautiful lake house that she has been living in for a job in a Chicago hospital.
On her way to Chicago, she leaves a note for the lake house's new tenant, asking him to kindly forward her mail and telling him about the paw prints that were by the front door.
Alex Burnham (Keanu Reeves), the new tenant, however, sees a different lake house, one which was neglected, dirty, and there were certainly no paw prints. He disregards Kate's letter until a few days later; he is painting the jetty and sees a stray dog run across the fresh paint, leaving paw prints where she said they would be. He writes back to Kate, only to discover that they are separated in time by two years.
As Kate and Alex continue to correspond through the mailbox, they find themselves falling in love.
Determined to bridge the distance between them at last and unravel the mystery behind their extraordinary connection, they tempt fate by arranging to meet.
Dove Review
I really enjoy watching Sandra Bullock on the screen no matter what kind of film she is in. Even though her character in "The Lake House" is morose and seemingly totally unhappy, I still enjoyed her performance. I have never seen a film directed by Alejandro Agresti and I think I will see more by him in the future seeing I thought he did a wonderful job directing this film.
"The Lake House" sunk for me because of the use of profanities. They were so totally unnecessary but will offend the faith and family audiences. One would think if we were talking about a film entitled "The City Condo" you might expect to hear obscenities and profanities, but "The Lake House"? Come on! Where can we get some civility these days if not at a house by a lake?
I grade it with an A for creativity and a good story line, but an F for language!