Garfield: A Tail of Two Kitties
Theatrical Release:
June 16, 2006
DVD Release:
October 10, 2006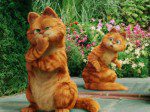 Synopsis
America's favorite feline, Garfield, follows his owner, Jon, to England. The U.K. may never recover, as Garfield is mistaken for a look-alike, regal cat who has inherited a castle. Garfield savors the royal treatment afforded by his loyal "subjects," but his "reign" is in jeopardy. The nefarious Lord Dargis is determined to do away with Garfield, so he can turn the castle into a resort.
Dove Review
Bill Murray once again voices the lazy but lovable Garfield, who plots to hinder Jon from proposing to his girlfriend, as Garfield believes he will no longer receive the attention he craves. Garfield hides in Jon's luggage, along with Odie, and they travel to England with Jon, who follows his girlfriend there to propose to her. There are laughs aplenty in this family-friendly film, including a scene in which Odie pees on a British guard's foot, and then flees along with Garfield, crying out, "The British are coming! The British are coming!" Another cute scene develops when Garfield is fed a liver dish which he detests. "What is this – 'Fear Factor'"? he asks. While in England, Garfield becomes mixed up with a look-alike cat named Prince, who is indeed the prince and soon-to-be king.
This film has a perfect melding of CGI and live action and it works well and is truly funny. There are a couple of brief drinking scenes, and some cleavage is shown, and there's a bit of animal flatulence, but this family-friendly film is safe for every age group. If this fun sequel to the first Garfield movie does well at the box office, there may be nine lives remaining for future films.
Info
Company:
20th Century Fox Home Ent.
Writer:
Joel Cohen and Jim David
Reviewer:
Edwin L. Carpenter