The Fast and the Furious: Tokyo Drift
Theatrical Release:
June 16, 2006
DVD Release:
September 26, 2006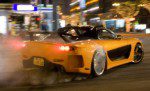 Synopsis
Starring Vin Diesel, Paul Walker and Michelle Rodriguez (Girlfight), this movie is a frenzied look at rival Los Angeles street gangs which adapt sports cars into weapons which they race illegally. Walker stars as a rookie cop who goes undercover, posing as a racing team member, in order to investigate truck hijackings. Managing to ingratiate himself with the team's leaders at first, he finds himself in jeopardy when the other members begin to suspect an impostor within their ranks, setting the stage for an exciting, climactic showdown.
Dove Review
"The Fast and the Furious: Tokyo Drift" is an energetic ride from start to finish. Little time is given to introduce the characters. Instead, we are driven full throttle through a maze of curves and turns as our supposed hero learns to break the law and impress the girls by living a "full speed ahead" lifestyle.
I found it interesting that the director chose to make a point of teaching the audience that life is full of choices and how you choose can direct your destiny. Unfortunately, even our hero makes his choices out of self gratification and to please others. There was a warning at the end of the film that all of the stunt driving was done by professionals and you should not try them by yourself. I have a better warning for you – drive past this one.
Info
Company:
Universal Pictures
Writer:
Alfredo Botello and Chris Morgan