Waist Deep
Theatrical Release:
June 23, 2006
DVD Release:
October 10, 2006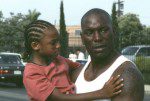 Synopsis
An urban action thriller with a sexy 21st-century Bonnie and Clyde. Ex-con O2 (Tyrese Gibson) is suddenly plunged into a life-or-death situation; trying to go straight for the sake of his young son Junior, O2 is forced to go back outside the law when Junior is kidnapped in a carjacking. His son is now in the hands of a vicious criminal leader, Meat (hip-hop superstar The Game). O2's shady cousin Wanna Be (Larenz Tate) is caught between loyalties, and so the only person who can or will help O2 now is wily street-smart hustler Coco (Meagan Good). With the clock ticking down, the heat between them rises as they become a lawbreaking couple, on an action-packed tear through town to save Junior and outwit the underworld.
Dove Review
When a man's car is high-jacked with his son in the back seat, he is directed to come up with $100,000 in order to secure his son's safe return. Rather than going to the police, he decides to rob several banks and gang's businesses in order to raise the money. But, when his cousin tries to pawn the stolen jewelry to the gang leader who it was stolen from, things turn into a bloody mess.
There is no moral value to the movie as the film's two protagonists break several laws trying to insure the boys rescue. Violence and Language are over the top, as is the lawlessness of all of the central characters in the picture.
Info
Writer:
Vondie Curtis-Hall and Darin Scott