The Theory of Everything
DVD Release:
July 4, 2006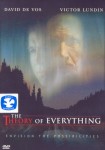 Synopsis
Doug Holloway (David de Vos), a family man on the verge of financial and marital ruin, embarks on a journey to find his birth father, Dr. Eugene Holland (Victor Lundin). Dr. Holland is on a mission of his own – to prove the Holy Grail of physics – the Theory of Everything – that he believes will prove the existence of God. His greatest challenge? Completing his quest before Alzheimer's claims his ability to reason. A moving tale of family, faith, and theoretical physics, "The Theory of Everything" will inspire you to "envision the possibilities."
Dove Review
This is a powerful film which works because of the great chemistry between the father and son. The father's name is Gene and he is slowly dying from a rare disease. His wife died years before and he adopted out their newborn son Doug. Doug now has a family of his own and when he learns of his father, they gradually develop a close relationship and Doug makes it his mission to convert his father to Christianity. He, as his mother before him, is a Christian.
The title of the film comes from Gene's determination, with his background as a professor, to come up with a theory to prove God's existence. Doug attempts to teach him that only faith in Christ is required. With Gene's death looming, Doug takes him by plane to Alaska, where the northern lights of Amber Aurora Borealis has a significant effect on the man who once said, "If a caterpillar can turn into a butterfly, why can't there be another dimension for man to do the same?" We award this touching film five Doves, and recommend it for the entire family.
Info
Company:
ChristianCinema.com
Industry Rating:
Not Rated
Reviewer:
Edwin L. Carpenter