Little Man
Theatrical Release:
July 14, 2006
DVD Release:
November 7, 2006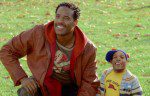 Synopsis
In the hilarious comedy "Little Man," Shawn Wayans plays a man so anxious to become a father that he mistakes a short-statured, baby-faced thief on the run, played by Marlon Wayans, for an abandoned toddler. He and his wife, played by Kerry Washington, take the "baby" into their home and care for him. The "baby's" partner-in-crime in a jewelry store heist, played by Tracy Morgan, tries to break him out and recover a stolen diamond.
Dove Review
"Little Man" was funny in a couple of places and it was interesting how they made him look like a baby. His facial expressions were very colorful and added to the entertainment value of the film. There was one scene where Darryl and Vanessa put Calvin to bed and there is a mobile overhead that Vanessa says will help him sleep. Calvin wants to get the diamond he stole and get out of the house but the mobile does its job and Calvin falls asleep snoring.
The premise for "Little Man" though is so far fetched-it could have been pretty funny and interesting except that Keenen Ivory Wayans went for the crude, obscene or toilet humor every time. People who still laugh at "pull my finger" at family gatherings might enjoy this kind of comedy. The scene where Vanessa and Darryl are making love while Calvin ("the baby") is in the bedroom is inappropriate because in the morning Vanessa is all excited about what she thinks was her husband's performance in bed the night before, but Darryl doesn't remember making love twice in one night. It is evident to the audience, but not to the couple, that Calvin was the one who had sex with her the second time. He was in bed with her and Darryl in the morning.
The film is filled with violence similar to the comic violence in "Home Alone," but there is much more of it and it is more graphic in nature. Seeing this film may stunt your growth in intelligence and leave you with a "Little Mind", so you might want to pick up a good book instead.
Info
Company:
Columbia Tri-Star Pictures
Writer:
Keenen Ivory Wayans and Shawn Wayans