Bug Rangers: Hairy Situation
Theatrical Release:
October 17, 2006
DVD Release:
October 17, 2006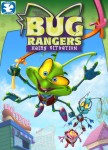 Synopsis
The Roach Rangers are trying to earn their latest merit badges. Cosmo thinks he's doomed to be "just a brainiac" until he accidentally comes into possession of the bulging muscles badge and discovers he has all kinds of athletic abilities he never imagined. Is the merit badge giving him the power to go up against the neighborhood jock, and actually hold his own? Well, Squiggz sure thinks so. In fact, he's on the verge of giving up his friendship with old pals, Squiggz and Flutter, when Grandpa Lou tells the story of a fellow named Samson, who mistakenly believed his strength came from his long, flowing hair. Both Samson and Cosmo have a lot to learn about the one true source of all our individual gifts and powers. By the climax of the story Cosmo will lose his badge and be faced with a serious dilemma. Does the power to save his friends lie inside him, or does it come from the bulging muscle merit badge that he has lost in the midst of a very hairy situation of his own?
Dove Review
The fantastic people at Wacky World have changed the "Roach Approach" gang's name to "Bug Rangers" because of some people's reaction to the thought of a cockroach. To me they are adorable, colorful animated characters that relate a Bible story to a real life situation in each story.
Grandpa tells the story about Samson, who forgot that God gave him a gift of strength. Cosmo thinks his strength comes from a badge. Both have to take a look within to see that God gives everyone special talents. "Hairy Situation" shows that children should take a look at the talents that God gave them.
Info
Company:
20th Century Fox Home Ent.
Industry Rating:
Not Rated