Material Girls
Theatrical Release:
August 18, 2006
DVD Release:
December 12, 2006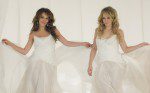 Synopsis
Ava and Tanzie Marchetta have it all. The heiresses to a multi-million dollar cosmetics company, the girls approach life as one big party. But when a scandal involving one of their products emerges, the girls are left penniless, homeless and seemingly helpless. They could, of course, take the easy way out and listen to the board of directors who want to sell the company to their biggest competitor, but that would forever taint the name of their late father, who built it from the ground up. Instead, Ava and Tanzie decide to protect what is rightfully theirs. What it's going to take to do that will require them to do some things they've never really considered…growing up, taking initiative and responsibility and asking for help from others, rather than expecting it to fall into their laps. If they can find their inner strength, they might be able to clear their father's name. If not, the party might be over… for good.
Dove Review
This movie has some funny moments in it. In one scene Tanzie is complimented on her dress and replies, "Thank you. I'll probably give it to you when I'm done with it." These material girls, Tanzie and her sister Ava, are clueless to the ways of the world, having never held a job. Yet they catch on quick when the cosmetics company their father founded begins to go under, due to some shady dealings by someone close to the situation. But who? That, along with some other humorous moments, drive the film. In one scene Ava receives an engagement ring by courier and comments that her fiancé has good taste. Her sister reminds her she picked out the ring herself! This is a perfect comedy for moms and daughters. We recommend it for ages twelve and above, with a word of caution that our readers check the content chart below, as the film does include some mild language and sexual innuendo. We award this film three Doves.
Content Description
Sex:
Kissing. Suggestive dancing. There is a gay character in the film. There is a "groping" comment.
Info
Writer:
John Quaintance and Jessica O'Toole
Reviewer:
Edwin L. Carpenter