Call of the Forest
Theatrical Release:
June 23, 2021
DVD Release:
June 23, 2021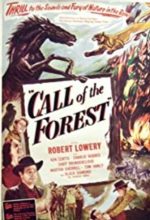 Synopsis
Bob Brand is looking for a lost gold mine. Storm Cloud makes friends with Bob's son Bobby and to repay Bob for the help he gave the Indians, he gives a map locating the mine to the boy.
Dove Review
This classic Western has a real family feel to it, as it is largely a movie about a father and his young son. Ken Curtis, for whom a Western role was familiar territory, having played Festus in Gunsmoke for years, plays Bob Brand, a ranch-owner and father who is well liked by the locals. Young Bobby has been away from his dad for some time but is coming to live with him, and he is soon to experience the joy of owning and caring for a horse, a black beauty of a stallion named King. But first, he'll have to be broken by Bob and then Bobby, whose love for him the horse seems to sense.  "A boy needs a horse," Bob told his son. "And if it's the right horse, the horse will learn to love him too."
Cowboys rope horses and own ranches, and it's a life in which young Bobby thrives. His dad is good friends with Sam Harrison (Robert Lowery), but there's more to Sam than meets the eye. He suspects that Bob has been searching for a lost gold mine in the hills, and he secretly wants to grab it away from Bob if Bob locates it. Sam asks Bob if he's been breaking away to the badlands as people say, to which Bob replies, "You know how people talk."
Sam and his partner try to ride to the area where Bob has gone but they are shot at by an Indian named Stormcloud (portrayed by Chief Thundercloud), who knows Bob has helped his people out and would be willing to only allow him near the mine. You see, Stormcloud knows where the mine is located.
Sam tells his partner Gilman that they can get rid of Bob, and his son too. Gilman wants to know how they would get rid of the boy. "Kids have accidents," he cunningly replies.
The film features some nice gun tricks by Bob, who can flip and turn his guns faster than anyone in the area. He also sings and plays the guitar, and performs a couple of songs, including one with the line, "We'll ride the prairie that we like the best," and another one with a, "Yippe Ay ey!" in the tune. He's adept at playing and singing.
Later, Sam comes and accuses Bob of trying to find the gold mine and calls him a "liar." Bob doesn't take to the name calling and they tussle, with Bob licking Sam in the fight. Sam leaves after his whipping, and Bobby lets Bob know he is proud of his dad and that he's quite a fighter. The father and son share a few touching moments as well as humorous ones. Bob tells Bobby he hopes he'll be president one day, and Bobby replies, "As long as King can be my Vice-President!" Bob also teaches his son the importance of self-reliance and doing whatever life requires.
A few shootings take place in the film, and in one scene blood is seen on a man's forehead. There are a few smoking scenes too. Sam apologizes to Bob for the fight, but only to gain his trust so he can still learn where the gold mine is. He goes after both Bob and Bobby and we won't give the ending away, but it's a nail biter for a while and even King has to help in the effort to defeat the bad guys. The film includes great photography, forest and mountain scenes, not to mention every kind of animal from a raccoon to a possum, to a wolf, deer and a bear cub!
Due to the overall wholesome qualities of the show, it has earned our Dove-approved Seal for Ages 12+.
The Dove Take
This thrilling action picture also features tender moments between a father and his young son.
Info
Industry Rating:
Not Rated