Little Miss Sunshine
Theatrical Release:
July 26, 2006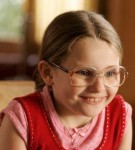 Synopsis
By anyone's standards, the Hoover family consists of some decidedly odd characters. There's Richard (Greg Kinnear), a motivational speaker whose career downslide is starting to give the lie to his own philosophy; his wife Sheryl (Toni Collette), who's losing patience with both his crisis and their marriage; their teenage son Dwayne, who worships Nietzsche and has taken a vow of silence until he's old enough to become a fighter pilot; Sheryl's brother Frank (Steve Carell), a Proust scholar who lost a MacArthur grant and his lover but failed in his attempt to lose his life; Grandpa (Alan Arkin), who's been kicked out of his nursing home for snorting heroin; and Olive (Abigail Breslin), Richard and Sheryl's seven-year-old daughter, who isn't going to let a little weight problem get in the way of her winning the Little Miss Sunshine pageant. She's been rehearsing her talent program with Grandpa and seems sure to win, so the family hops into a VW bus and drives Olive to the pageant for a chance to fulfill her dreams.
Dove Review
This film is basically about a cross country road trip with an extremely dysfunctional family. And while it may be reflective of many American families, Dove CANNOT recommend that you share this film with your family. The language and life choices made by these characters are extreme, unpleasant, and not for young children.
As the film begins we meet Frank who has just "failed" at committing suicide. It turns out he is one of the more sane characters in the household. The grandfather is brash and takes heroin; the father espouses self-help to seminar attendees while actually struggling with his own identity; the mother is a codependent mess; the teenage son has taken a vow of silence but still manages to exude hate. The one ray of sunshine is seven-year old Olive who somehow got the idea she wanted to be a beauty queen. Her innocence and goodness seem to be the glue that is holding this family together. After a contestant is disqualified for using diet pills, Olive is allowed to compete in the "Little Miss Sunshine" pageant and the family sets out for California in their beat up VW bus.
There are some laugh out loud moments in this film. Much of the film takes place in the cramped quarters of the family's yellow VW bus. Because of the close confines, the actors really had their work cut out for them and I must say they seemed up to the task. No one can act in a closeup shot better than Toni Collette and Greg Kinnear got his character's smug but insecure attitude down pat. Dwayne (Paul Dano) only says a couple words in the film, but he is able to portray teen angst and disdain better than most. Although the family makes fun of their father's "Nine step plan," they do seem to live by one aspect — "A loser is someone who's so afraid that they don't even try." In addition, between the bickering and personal struggles, they seem to have a strong family bond.
Just as it's fun to go somewhere new on vacation, but you wouldn't want to live there — It's fun to visit with this family, but I wouldn't want to belong to them.
Note: A Dove-approved alternative to this film is RV with Robin Williams
Info
Company:
Fox Searchlight Pictures
Director:
Jonathan Dayton and Valerie Faris