McLeod's Daughters, Season 2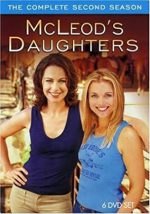 Dove Review
If conflict makes good drama, then this episode should be considered very dramatic. The start of season two of this series finds several characters dealing with problems. Claire (Lisa Chappell) likes a man named Peter Johnson (Rodger Corser), but he seems to be "hot and cold" as she puts it. He seems interested in her, even kisses her, but then backs off. Claire's sister Tess (Bridie Carter) thinks it has to do with the "big C". "Cancer?" asks Claire. "No, commitment," explains Tess.
Then, there is a mystery to solve. Tess has been overseeing a big hemp crop, and it is tested every so often to make sure it is legal. But somehow dope winds up being planted near the hemp crop. Who did that? And, when it is removed, it is obvious that someone the family knows must be involved. Also, a character named Sean Howard hates school, and his sister attempts to help him. But is he being bullied? Claire cares for a horse that comes down with an infection, and Peter sleeps in the barn to be near Claire and the horse in case more help is needed. But the following morning he is gone. Where did he go? In one funny scene Claire asks someone, "You would tell me if I had bad breath or B.O., wouldn't you?"
And a new police officer shows up but might be taking his job too seriously. One character complains that he got cited for a bag catching on his license plate! And the new officer shows no mercy when he begins to track down the culprit who planted the drugs near the hemp crop.
Tess has a few romantic issues of her own as Alex (Aaron Jeffery) tends to joke around more than she would like. She wants him to take her more seriously. The illegal crops are burned which winds up costing Tess a lot of money.
In this episode there are several references to drinking beer, and the issue of a certain young character being pressured to grow the illegal drugs, but at the same time his sister does her best to help him, and several other characters show a capacity for forgiveness when it's required. Therefore, this episode has earned our Dove seal for Ages 12+.
The Dove Take
This episode realistically dramatizes that life can be full of many problems, but with the support of family and friends, things have a way of working out.
Content Description
Drugs:
Some teens grow illegal drugs near a hemp field; in one scene the hemp is tested to make sure it is not "illegal"; several references to getting or drinking a beer; the drinking of beer and wine is shown.