Cabin Connection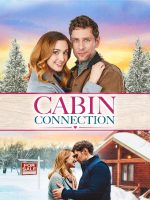 Synopsis
When lifestyle writer and committed bachelorette Hannah Monroe inherits her late-grandmother's cabin, she hires her widowed neighbor, local handyman Cole to help get it in shape to sell. But as Hannah and Cole spend time together, Hannah can't help but feel her faith in love and relationships being restored and she questions whether she should sell the cabin after all.
Dove Review
**This review is contributed by Super Channel—a channel dedicated to providing integrity and accountability in today's entertainment.
This charming movie is an example of how love can only come alive when true feelings are put into action. Heartwarming family dynamics are demonstrated throughout making the story come to life and something that could realistically happen to anyone.  Gather the family for a movie night at home and enjoy this film that's Dove approved for all ages.  
Fifth & Madison Lifestyle magazine writer and committed bachelorette Hannah Monroe (Katherine Barrell) is surprised to learn she has inherited her late grandmother's beloved cabin in Sherbrooke Falls.  Hannah's broken engagement and doubts about marriage, will make it difficult to write her first serious in-depth article on marriage in the modern world, and she decides a trip to Sherbrooke Falls will be the opportunity to focus in on this important article as she prepares the cabin for sale.
The cabin will need a lot of TLC to get top dollar and the handsome widowed neighbor and town handyman, Cole Walker (Cody Ray Thompson) is ready to help.  As Cody and Hannah work together, tiny sparks are forming, but both are overly cautious from being hurt in the past.  However, no shortage of encouragement from Cole's busy-body sister, Danielle (Julie Nolke) and his parents sets the stage for their romance to blossom. 
But when Cole misinterprets Hannah's intention with her article, he storms out and Hannah is heartbroken. Desperate for clarity, Hannah reads a beautifully hand-written letter from her grandmother that is the final push to admit to herself, her feelings for Cole.  Will Cole follow his heart, and can they fix the damage, regain lost trust, and commit to a fresh start together?
The Dove Take
Love and commitment are difficult, even when they are good!  Don't let past adversities cloud your chances of  future happiness.  Trusting your inner instincts in matters of the heart rarely lead you astray. 
Content Description
Integrity:
Genuine devotion and commitment in a 40-year marriage; Cole is loyal to his late wife's memory; family members are supportive of each other and show their love through their actions.
Info
Company:
Vortex Productions