American Underdog
Theatrical Release:
December 17, 2021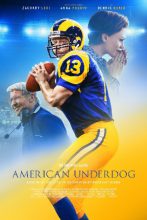 Synopsis
A biopic about the life of Hall of Fame quarterback Kurt Warner includes the development of his relationship with wife Brenda and their efforts to get Warner from stocking grocery shelves to the NFL. 
Dove Review
The Erwin Brothers have already delivered several films based on real-life events: Woodlawn, I Can Only Imagine, and I Still Believe. With American Underdog, they tell the story of Kurt Warner, who experienced an unlikely rise from University of Northern Iowa quarterback to starting quarterback for the St. Louis Rams. 
The film's main action begins with the college-age Warner (Zachary Levi) struggling to find his spot on the UNI team, still pursuing a dream he held as he watched Joe Montana win a Super Bowl when he was a youth. He meets Brenda (Anna Paquin) and her two children from a previous marriage, and his life begins to find purpose beyond the football field. With the tough-love help from Brenda (and a few coaches along the way, like Mike Martz), Warner begins to find his footing as a quarterback, too. 
Wrapped around the rise of a football player, American Underdog delivers a real-life love story, the growth of faith, and life lessons about being coachable, finding meaning in life, and standing up to adversity when life gets tough. 
The Dove Take
Kurt Warner's life plays out like a Disney movie, and the Erwin Brothers have successfully captured the essence of the Warner journey, their family, and their faith in ways that will appeal to whole families.
Content Description
Faith:
Brenda has faith that God has a plan for her life; Kurt comes to realize that God's plan for him is bigger than success on the football field
Integrity:
Kurt Warner proposes to and marries Brenda, adopting her children as his own, keeping a promise to her father and her.
Info
Director:
Andrew Erwin and John Erwin