How to Eat Fried Worms
Theatrical Release:
August 25, 2006
DVD Release:
December 5, 2006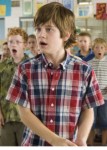 Synopsis
"How to Eat Fried Worms" tells the story of Billy (Luke Benward), an eleven-year-old who inadvertently challenges the town bully, Joe Guire (Adam Hicks), on his first day at a new school. To save face and earn the respect of his new classmates, Billy agrees to a bet that will determine his fate at the school – whether or not he can eat ten worms in one day. As the pressure mounts, he must summon heroic strength to keep his five-year-old brother from blabbing, his weak stomach from betraying him, and his big mouth from getting him into more trouble than he's already in.
Dove Review
This film does have its gross "Fear Factor" moments, but the story overall is pretty much good fun and the kids in this movie act much as kids do in real life. New-kid-at-school Billy is bullied by Joe, who as a prank puts some worms in Billy's thermos and all the kids laugh at lunchtime. When Billy throws a worm and it lands in Joe's eye, Joe challenges Billy to eat some worms, and Billy claims he can eat ten before 7 pm on the day determined. The kids break into two teams – Billy's team and Joe's team, and as Joe's team finds inventive ways to cook the worms including frying them, the gross-out fun soon begins.
The kids loved this film at the screening I attended. They laughed and said, "Ewwww……." at the appropriate times. As far as the content, we just want to note a young toddler in the film named Woody says the word "penis" in an innocent way. During the conclusion of the story, Billy wins over Joe and the other kids so this fun-filled film even has a great ending. When you go to see it, I suggest you eat something simple, like popcorn. All in all, "How to Eat Fried Worms" is a gross out good time!
Info
Reviewer:
Edwin L. Carpenter