The Covenant
Theatrical Release:
September 8, 2006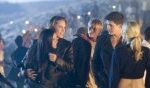 Synopsis
In 1692, in the Ipswich Colony of Massachusetts, five families with untold power formed a covenant of silence. One family, lusting for more, was banished—their bloodline disappearing without a trace. Until now.
Four young students at an elite private school, who are descendants of the original families who settled in Ipswich Colony in the 1600s, are bound by their sacred ancestry and special powers. When the body of a dead student is discovered after a party, secrets begin to unravel that threaten to break the covenant of silence that has protected their families for hundreds of years.
Dove Review
"The Covenant" portrays the descendents of the original witches of Ipswitch, who are a group of testosterone-laden prep-school boys, who happen to have inherited supernatural powers. They use their powers to lift up a woman's skirt, throw each other around when their egos clash, and ultimately battle it out with a mean witch who wants to kill them. When the witches, who are the eldest sons of their families, turn 18, their powers mature to their full potential, and can be addictive; also, if they use their powers too much, their aging is sped up exponentially. The film crescendos into a battle royale where one of the "good" witches must fight the "bad" witch, and the two throw various sharp objects at each other and blast each other with a supernatural energy force. Besides the film's occult theme, "The Covenant" also portrays teenagers (who are played by actors in their 20's) as highly sexualized adults. For these reasons, Dove cannot approve this film.
Info
Company:
Sony/Screen Gems