Gridiron Gang
Theatrical Release:
September 15, 2006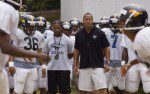 Synopsis
Juvenile detention camp probation officer Sean Porter (Dwayne "The Rock" Johnson), along with another officer, Malcolm Moore (Xzibit), turn a group of hardcore teenage felons into a high school football team in four weeks. Confronted with gang rivalries and a bitter hatred between his teammates, Porter teaches some hard lessons (and learns a few himself) as the kids gain a sense of self-respect and responsibility.
In a world where 75% of these juvenile inmates return to prison or meet with violent ends on the streets, Porter and Moore face seemingly insurmountable barriers. No one wants to compete against convicted criminals, but through relentless pursuit and a jolt of inspiration, Porter and his team fight their way to redemption and a second chance.
Based on a true story.
Dove Review
Recently a very good football film was released titled "Invincible." It was Dove-approved for families. In two weeks "Facing The Giants" will be released and Dove saw an early screening and it has already been approved. I wish we could approve "Gridiron Gang," as it is based on the true story of Sean Porter, a coach who works hard to rehabilitate felons into football players. The film had some realistic moments and it was great seeing the change in some of the new athletes. One former gang member even helps an old enemy, another former gang member, so the character growth is nice to see. But we cannot award this film our Dove Seal Of Approval due to the horrible language in the movie.
In one pivotal scene, a Christian coach does not want his team to play the Mustangs because of the felons on the team. One character reminds him of Jesus' teaching that if one is merciful, God will return mercy to the one who showed it. The coach changes his mind and lets his team play against the Mustangs. Unfortunately, we wish the filmmakers would have remembered the third commandment of the Ten Commandments: Thou shalt not take the name of the Lord thy God in vain. This is done several times in the film, along with other crude language, which ultimately makes the film unfriendly toward families. That, along with the strong violence, moves us to suggest you see "Facing The Giants" when it opens on Sept. 29.
Info
Company:
Columbia Tri-Star Pictures
Writer:
Jeff Maguire and Jac Flanders
Reviewer:
Edwin L. Carpenter